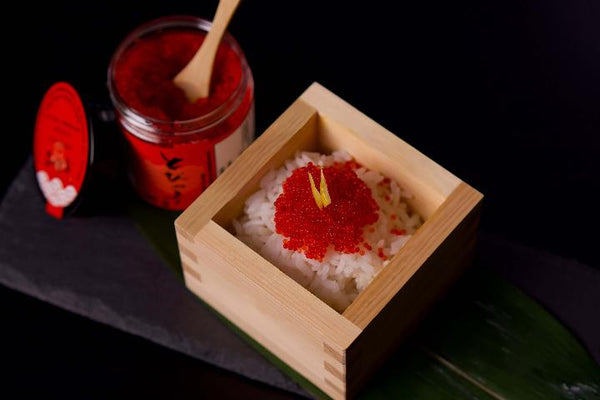 "gemstone?  No, it is flying fish roe"

Tobikko is seasoned flying fish roe which is like an edible gemstone.
The shiny, crunchy and flavorful flying fish roe is typically used for sushi garnish and some chinese cuisine like fried rice and shumai.
Tobikko is bigger than masago (capelin roe) and crunchier than ikura (salmon roe).  It is widely consumed with sushi  around the world.  
The bright red roe adds the colour as well as flavorful taste to your dish.
Enjoy this edible gemstone!
 【Detail】
Package size: 90g 
Shelf Life: 2 year
Main Ingredient: Flying fish caviar
People might think can get them easily at any Asia supermarkets.
Answer is "No"
To me, between Masago and this product are totally different ones.
As texture , taste and the passion red color....
Great for accent on meals.
I regretted that I didn't buy this for Setsubun Maki dinner.(Now I buy it)
Yummy
I love tobikko and this tobikko is amazing. Awesome quality and beautiful colour, very tasty also.
Good for garnish
I was looking for some fish roe for a while to use for garnishing the dish. Just sprinkle it, made the dish look like something that chef cooks. Not just that the taste was awesome! I'd love to have different colour as well! Fun food.