Saikyo Miso Marinated Fish Set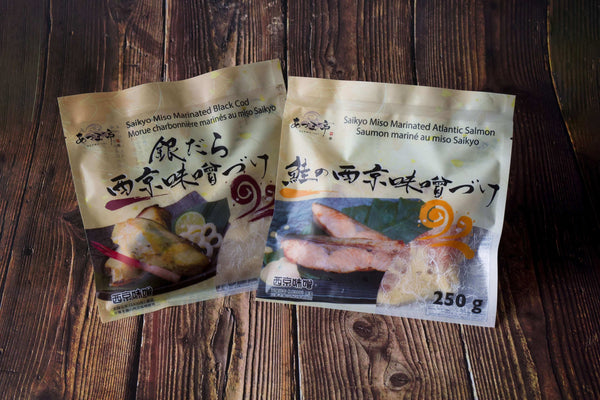 "An Authentic and Elaborate dish"
Saikyo Miso marinated Black Cod and Atlantic Salmon special Set.
Try and Enjoy both authentic Japanese fish dish. 
<What is Saikyo Miso?>
Saikyo Miso originated in Kyoto - a city that has been a center of politics, economics, and culture for more than a thousand years—and has been cultivated by the elegance of royalty. Saikyo Miso has been a valuable part of the Imperial Palace's hare (soul rejuvenation) ceremonies and has developed along with the food culture of the capital city. It is known for its generous amount of rice malt, its sweetness due to its low sodium content, and its beautiful light beige color. Our company has gained national recognition to the point that our name, Saikyo Miso, has become synonymous with white miso. (Miso with a light beige color is referred to as "white" miso in Japan.)
【detail】
Package size: Saikyo Miso Black Cod 250g , Saikyo Miso Atlantic Salmon 250g, 1pkg each
Shelf Life: frozen 2 years
Great fish!
The marinade was perfect, had complex flavours, and was delicious. Loved the salmon and the sablefish.
Nailed it!
This is one of the authentic Japanese dishes that not many Japanese people can make at home even in Japan.
I was a little skeptical about the taste and quality to be honest, but Azumatei did amaze me. I'm glad that now I know where to find the real saikyo yaki.
Must have in my freezer.
These products are amazingly tasty. When I have these I always feel to thank Azumatei.
Now we can enjoy such delicious fish at my place without flying back to Japan.
That is awesome.
Great taste!
What can I say?... It makes my mouth watery just thinking about this flavorful and delicious set! I love sweet miso, so it satisfies my taste for sure :)