Kaki Fry (Panko Fried Oysters)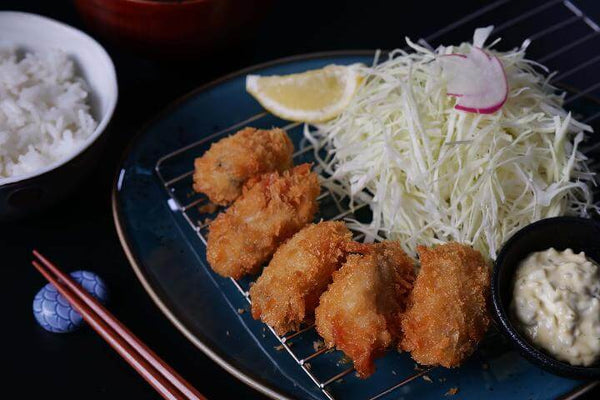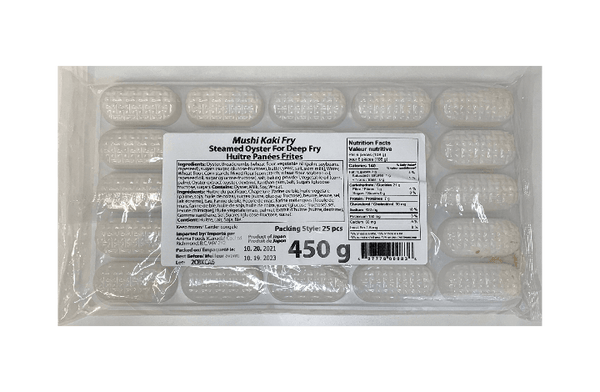 "Oysters are harvested in Seto Inland Sea(瀬戸内海),Hiroshima(広島)  Japan. "

Seto Inland Sea, which is rich in nutrition and has calm waves, that gives the oysters characteristics such as having small shells but with a rich texture and rich taste. 
Japanese Oysters are fully steamed while they are still inside the shells, so all the tasty flavor is well kept inside.   Oysters are breaded and individually frozen.   You just need to deep fry about 3min until inside is hot and outside becomes golden brown.
We recommend a few minutes deep-fry at home to enjoy perfect taste from Japan
 25pieces on a tray
【detail】
Shelf life: frozen 2 years
Package style: 18g x 25pc
Produced in Japan
 Ingredients: Oyster, Breadcrumbs, sugar, butter, yeast, salt, skim milk, Water,
Wheat flour, Corn starch, Mixed flour
Absolutely Delicious!
Incredibly tender and flavorful, and so easy to make! A few minutes of frying on medium does it - I'm sure an air-fryer would do it as well. I would think that having instructions on the package would make things easier, but it's not too hard to figure out either way
Super tasty
The oyster is very fresh, so juicy and has very rich flavorful taste! One time, I served it for my guest. The first was impressed. I've repurchased this many times. Must have in my freezer.
Your website is very hard to use. Difficult to find products and place an order.
Please try to use the website ourself.
must haves !!!
these are AMAZING !!! they are the perfect size, fresh, and so easy to make at home - just 2-3 minutes in the fryer. love it so much already repurchased !!!